Albany in Clear Oak
£158.00
Wooden fire surround with some Damage
---
---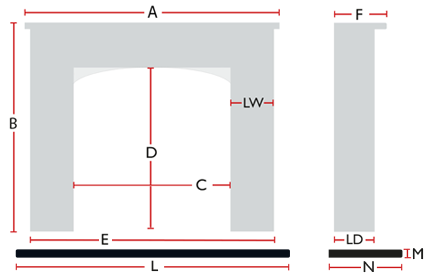 Fire Surround Dimensions
| | |
| --- | --- |
| A | 46" |
| B | 42.5" |
| C | 31" |
| D | 35" |
| E | 46" |
| F | 8.25" |
| LD | 8.25" |
| LW | 7.5" |
Hearth Dimensions
Rebate: 1 inch removable to 3 inches; click here to find out about rebates.
Measurement 'D': From the inside surround bottom to the top centre of the opening.
Click on the sizes (A-E): To see other surrounds with this dimension.
The Albany Fire Surround - Damaged
The Albany is a stylish surround that will enhance any living space, the mantel has three oak fascias steps with deep returns. Although on first look this surround looks perfect on closer inspection you will see the damage. It was installed by a customer that didn't order a high heat upgrade and this has caused some of the veneer to start peeling on the inside of the legs. From the front of the surround this is not too obvious but if you look closely you will see the damage.
We have photographed the surround from the front and back, please read the titles at the bottom of the page to see where the photograph has been taken from as it is not immediatly clear. The sizes on this surround are not standard, however it will fit a standard 48'' hearth and back panel should you have or wish to purchase one.
To view our selection of Granite Hearths and Backs, Click Here.
When you stand back from this surround it does look fantastic, and it is finished in one of the most popular colours (Clear Oak). Personally I would suggest that this is only used in an occassional room, or if you are wanting a cheap way of making a fireplace look fresh and modern in a house that you are selling.
We do 4 versions of the Albany and you can view them by viewing the related products at the bottom of this page.
Clearance Surrounds
IMPORTANT These fire surrounds are available at a more expensive price in various marketplaces. Until you receive an invoice with a delivery date we can not confirm that this surround is still for sale.

If you would like to call us to place the order we will confirm if this surround is still available.

Please read the description carefully it will give the reasons why the fire surround is discounted and its condition
• New - Brand new, never fitted and no damage
• New Used - Fitted and then removed. Perfect condition
• Damaged - Some damage to the surround, this is photographed and displayed

One of the pictures shows this surround in a room set, unless stated this is not the colour of the fireplace surround you are purchasing.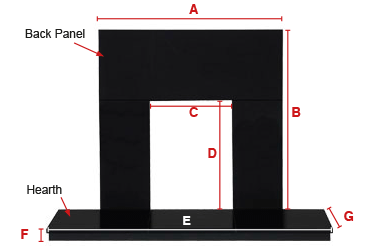 Hearth & Back Dimensions
| | |
| --- | --- |
| A | 37" or 40" |
| B | 37" or 40" |
| C | 16.5" |
| D | 22.5" |
| E | 48", 54" or 60" |
| F | 2" |
| G | 15" or 18" |
Hearth Footprint
We would always suggest that you take delivery of your hearth before cutting your carpet. The sizes given are for the top of your hearth, the footprint is usually around 0.5" on both sides and front.
Bespoke Sizes
We can alter the size of your hearth, in both width and depth. Please call us for a quotation.
Standard Sizes
The standard sizes for hearths are:
| | |
| --- | --- |
| Wide | 48", 54" or 60" |
| Deep | 15" or 18" |
The back panel standard sizes are:
If your require a hearth that is not an option on your chosen fire surround, please order from our Hearth & Backs section.
Help buying your Fire Surround
Wooden Fire Surrounds are one of the most popular ways of enhancing a room and creating an ambience personal to each individual. Bought wisely, a Wood Fire Surround will last and give years of enjoyment.
We want to make purchasing a Fire Surround as simple as possible. We appreciate that although the savings are huge, it's not the easiest product to buy online. Below are some links to video guides covering the most frequently asked questions.
Click here to visit our buyers guide for lots more advice. Please call 01422 250 723 if you need more information or help.