Albany Small Surround
£328.00
Our Fireplace Surrounds All have a 2 Year Warranty
---
---
The Smaller Albany Wood Fire Surround
The Albany Small is shown here in a variety of painted colours but is also available in any of our wood veneers. It is a stylish surround that will enhance any living space. The mantel has three fascias steps with deep returns. The surround is showcased perfectly here by the contrasting Black Granite marble set, but the surround works well with any of our hearth and back sets.
Please view the standard Albany to see this surround in a wood veneer by clicking HERE
This wood fireplace surround can be made to measure so that it perfectly fits your room, you can also have downlights installed for added ambience.
The fire isn't included in the price shown. Click Here to see our Electric Fires
To view our selection of Granite and Marble Hearths and Backs, Click Here.
We recommend that you take advantage of our colour sample service as colours on monitors often do not match the finished product. Click Here to have some samples sent to you.
If you are wanting to use this fire with a gas fire please check the distances to a combustible material before ordering. The Albany Small surround will not be suitable for higher heat gas fires unless the C & D measurements are increased.
All our Wood Fire Surrounds have a 2-Year Warranty - Click to find out more
Modern Fire Surrounds
This range compromises of mantels that are both stylish and contemporary. We have selected surrounds that have sharp straight lines, subtle inlays, broad legs and gentle curves

We have included in this range some surrounds that take a modern twist on a traditional theme, creating a dynamic fusion that will even suit the more conventional setting.

Our new colour pallet for this range includes Olive, Mist and Slate; these shades maintain the contemporary feel that many interior designers and homeowners have been requesting.

Our Modern Collection is made up of Natural Grade-A Veneer stained or painted to a colour of your choice; for the surrounds with a smooth finish, Kronospan and Medite Premier boards are used. Everything comes with a free 2-year warranty and fitting kit.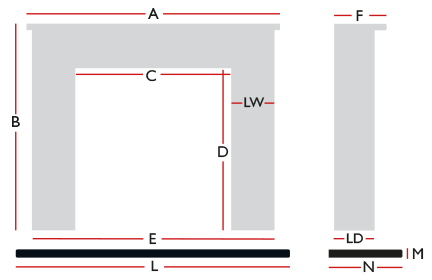 Fire Surround Dimensions
| | |
| --- | --- |
| A | 47.25'' |
| B | 43'' |
| C | 31'' |
| D | 35'' |
| E | 37.25'' |
| F | 8.25'' |
| LD | 8.25'' |
Hearth Dimensions
Rebate: 1 inch removable to 3 inches; click here to find out about rebates.
Measurement 'D': This is always from the bottom of the leg to the corner of the opening.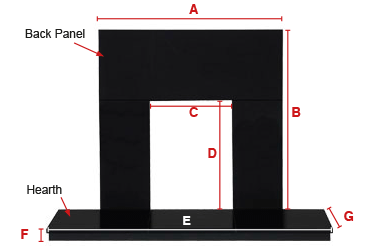 Hearth & Back Dimensions
| | |
| --- | --- |
| A | 37" or 40" |
| B | 37" or 40" |
| C | 16.5" |
| D | 22.5" |
| E | 48", 54" or 60" |
| F | 2" |
| G | 15" or 18" |
Hearth Footprint
We would always suggest that you take delivery of your hearth before cutting your carpet. The sizes given are for the top of your hearth, the footprint is usually around 0.5" on both sides and front.
Bespoke Sizes
We can alter the size of your hearth, in both width and depth. Please call us for a quotation.
Standard Sizes
The standard sizes for hearths are:
| | |
| --- | --- |
| Wide | 48", 54" or 60" |
| Deep | 15" or 18" |
The back panel standard sizes are:
If your require a hearth that is not an option on your chosen fire surround, please order from our Hearth & Backs section.