Calgary Fire Surround - Irory
£214.00
Customer Return - Very Slight Damage
---
---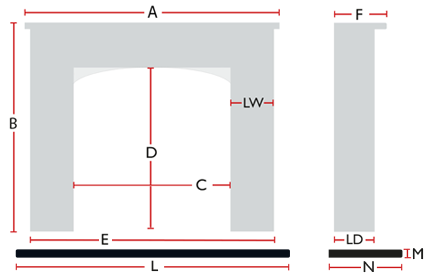 Fire Surround Dimensions
| | |
| --- | --- |
| A | 52" |
| B | 43" |
| C | 34" |
| D | 34" |
| E | 52" |
| F | 7.5" |
| LD | 7.5" |
| LW | 9" |
Hearth Dimensions
Rebate: 1 inch removable to 3 inches; click here to find out about rebates.
Measurement 'D': From the inside surround bottom to the top centre of the opening.
Click on the sizes (A-E): To see other surrounds with this dimension.
The Calgary fire surround for sale here is finished in a wood grain Ivory with an American Walnut veneer, the surround looks stunning and this is a real opportunity to grab a fantastic bargain. There is slight damage to the rear of the right hand leg. This damage is on the back edge and is quite slight. We have shown it with a £2 coin to give an indication of the size. The damage is relatively slight and will not be that noticeable we will supply a small pot of Ivory paint so you can touch up the damage if you require.
The pictures of the fire surround are the actual fire surround you will be purchasing, with the exception of the final picture of the fire surround in a room set, this is our standard piucture.
This wooden mantelpiece is a true contemporary surround and is shown here in Ivory and American Walnut, complemented with a Marfil Stone marble interior. The contrast of the two fashionable kinds of wood gives the whole fireplace a stunning appearance which will adorn any living space. Its simplistic lines enhance the beauty of this mantel and its 9 inch wide legs and corresponding header ensure an eye-catching style.
To view our selection of hearths and backs, Click Here.
We recommend that you take advantage of our colour sample service as colours on monitors often do not match the finished product. Click Here to have some samples sent to you.
The price does not include a fire you can use one of your own or if you would like to view our Electric Fires Click Here, or to view our Gas Fires Click Here.
This surround is in wood grain Ivory with an American Walnut inlay and would be complemented perfectly with the Brisbane Mirror
All our Wood Fire Surrounds have a 2-Year Warranty - Click to find out more
Clearance Surrounds
IMPORTANT These fire surrounds are available at a more expensive price in various marketplaces. Until you receive an invoice with a delivery date we can not confirm that this surround is still for sale.

If you would like to call us to place the order we will confirm if this surround is still available.

Please read the description carefully it will give the reasons why the fire surround is discounted and its condition
• New - Brand new, never fitted and no damage
• New Used - Fitted and then removed. Perfect condition
• Damaged - Some damage to the surround, this is photographed and displayed

One of the pictures shows this surround in a room set, unless stated this is not the colour of the fireplace surround you are purchasing.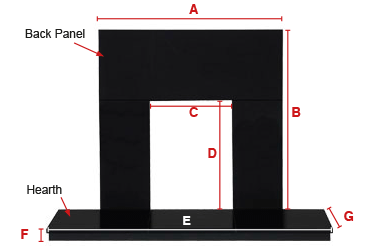 Hearth & Back Dimensions
| | |
| --- | --- |
| A | 37" or 40" |
| B | 37" or 40" |
| C | 16.5" |
| D | 22.5" |
| E | 48", 54" or 60" |
| F | 2" |
| G | 15" or 18" |
Hearth Footprint
We would always suggest that you take delivery of your hearth before cutting your carpet. The sizes given are for the top of your hearth, the footprint is usually around 0.5" on both sides and front.
Bespoke Sizes
We can alter the size of your hearth, in both width and depth. Please call us for a quotation.
Standard Sizes
The standard sizes for hearths are:
| | |
| --- | --- |
| Wide | 48", 54" or 60" |
| Deep | 15" or 18" |
The back panel standard sizes are:
If your require a hearth that is not an option on your chosen fire surround, please order from our Hearth & Backs section.
Help buying your Fire Surround
Wooden Fire Surrounds are one of the most popular ways of enhancing a room and creating an ambience personal to each individual. Bought wisely, a Wood Fire Surround will last and give years of enjoyment.
We want to make purchasing a Fire Surround as simple as possible. We appreciate that although the savings are huge, it's not the easiest product to buy online. Below are some links to video guides covering the most frequently asked questions.
Click here to visit our buyers guide for lots more advice. Please call 01422 250 723 if you need more information or help.