Solid Oak Chicago Surround
£619.00
Two Year Warranty on ALL our Fireplace Surrounds
---
---
The Chicago Fireplace Surround in Solid Oak
Shown with Carrara White marble and manufactured with solid European Oak, the Chicago is a supremely well-designed mantelpiece. The gentle double curved plain fascia has a slight profile along the edge to complement the subtle under shelf beading and emphasise the stepped back plain legs. A deep solid oak shelf adds to the impressive aura of this beautifully crafted mantel.
This wood fire surround can be made to measure so that it perfectly fits your room, you can also have downlights installed for added ambience.
If you would like to see our selection of marble or granite hearths and backs, Click Here.
We recommend that you take advantage of our colour sample service as colours on monitors often do not match the finished product. Click Here to have some samples sent to you.
The price shown is for the fire surround in any of our standard colours. You can add options and the total amount will be updated at the bottom.
The price does not include a fire you can use one of your own or if you would like to view our Electric Fires Click Here, or to view our Gas Fires Click Here.
The Chicago fire surround is shown here in Clear Oak
All our Wood Fire Surrounds have a 2-Year Warranty - Click to find out more
Solid Oak Fire Surrounds
The solid Oak range of Fire Surrounds is our premier range of mantlepieces.

Oak is known as the King of Woods due to its unique character and strength; our European Oak is well seasoned and easily identifiable by its beautiful natural grains and unique persona.

Manufactured by skilled craftsmen from solid Oak, each surround has a unique appearance; no two are ever the same.

Solid Oak gives a richness and greater depth in the grain of the wood when compared to a wood veneered surround. Each Solid Oak surround is truly individual, displaying the real and natural consistency of wood; these surrounds will be a real focal point in your room.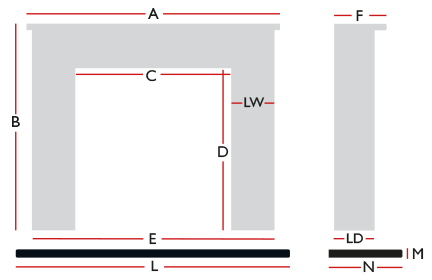 Fire Surround Dimensions
| | |
| --- | --- |
| A | 52" |
| B | 44.75" |
| C | 34" |
| D | 34" |
| E | 46.5" |
| F | 7" |
| LD | 5.25" |
Hearth Dimensions
Rebate: 1 inch removable to 3 inches; click here to find out about rebates.
Measurement 'D': This is always from the bottom of the leg to the corner of the opening.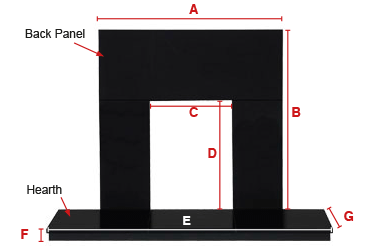 Hearth & Back Dimensions
| | |
| --- | --- |
| A | 37" or 40" |
| B | 37" or 40" |
| C | 16.5" |
| D | 22.5" |
| E | 48", 54" or 60" |
| F | 2" |
| G | 15" or 18" |
Hearth Footprint
We would always suggest that you take delivery of your hearth before cutting your carpet. The sizes given are for the top of your hearth, the footprint is usually around 0.5" on both sides and front.
Bespoke Sizes
We can alter the size of your hearth, in both width and depth. Please call us for a quotation.
Standard Sizes
The standard sizes for hearths are:
| | |
| --- | --- |
| Wide | 48", 54" or 60" |
| Deep | 15" or 18" |
The back panel standard sizes are:
If your require a hearth that is not an option on your chosen fire surround, please order from our Hearth & Backs section.