Hamble Fire Surround
£359.00
Wood Mantlepiece With Extended 2 Year Warranty
---
---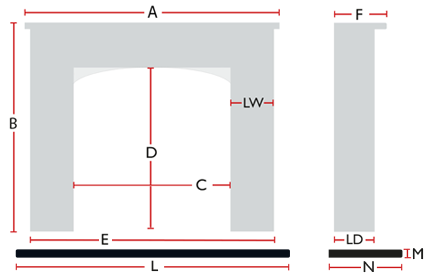 Fire Surround Dimensions
| | |
| --- | --- |
| A | 54" |
| B | 45" |
| C | 36" |
| D | 35" |
| E | 50" |
| F | 7.75" |
| LD | 5.25" |
| LW | 7" |
Hearth Dimensions
Rebate: 1 inch removable to 3 inches; click here to find out about rebates.
Measurement 'D': From the inside surround bottom to the top centre of the opening.
Click on the sizes (A-E): To see other surrounds with this dimension.
The Hamble Wood Fire Surround
Clean and smooth, the Hamble is a very popular fire surround and is shown here in a Golden Oak finish; the surround is complemented with a Marfil Stone marble set. The shelf has an overall width of 54" is 8" deep with a square under shelf beading to contrast the profiled arched fireplace opening.
This wood fire surround can be made to measure so that it perfectly fits your room, you can also have downlights installed for added ambience.
To view our selection of Hearths and backs, Click Here.
We recommend that you take advantage of our colour sample service as colours on monitors often do not match the finished product. Click Here to have some samples sent to you.
The price shown is for the fire surround in any of our standard colours. You can add options and the total amount will be updated at the bottom.
The price does not include a fire you can use one of your own or if you would like to view our Electric Fires Click Here, or to view our Gas Fires Click Here.
This surround is shown here in Golden Oak with the Melbourne Mirror.
All our Wood Fire Surrounds have a 2-Year Warranty - Click to find out more
Classic Wood Surrounds
This range of wood mantels showcases a timeless collection of beautiful wooden fireplaces with styles that present a regal aura.

All the Classic surrounds are available in a variety of painted colours and wood finishes. The wood finishes are made from high-quality hardwood veneers and the range encompasses durable and functional designs to suit all tastes. As we are unable to show all the colours that the fire surround is available in please take advantage of our colour sample service to view the colours of the fireplace surround in your own home.

Each mantel is available for any fire application and is individually handmade by expert craftsmen.

Our Classic Collection is made up of Natural Grade-A Veneer stained or painted to a colour of your choice; for the surrounds with a smooth finish, Kronospan and Medite Premier boards are used. Everything comes with a free 2-year warranty and fitting kit.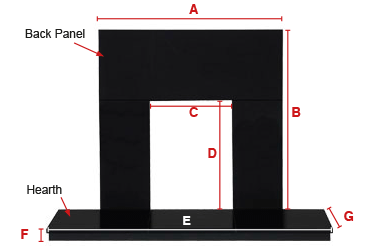 Hearth & Back Dimensions
| | |
| --- | --- |
| A | 37" or 40" |
| B | 37" or 40" |
| C | 16.5" |
| D | 22.5" |
| E | 48", 54" or 60" |
| F | 2" |
| G | 15" or 18" |
Hearth Footprint
We would always suggest that you take delivery of your hearth before cutting your carpet. The sizes given are for the top of your hearth, the footprint is usually around 0.5" on both sides and front.
Bespoke Sizes
We can alter the size of your hearth, in both width and depth. Please call us for a quotation.
Standard Sizes
The standard sizes for hearths are:
| | |
| --- | --- |
| Wide | 48", 54" or 60" |
| Deep | 15" or 18" |
The back panel standard sizes are:
If your require a hearth that is not an option on your chosen fire surround, please order from our Hearth & Backs section.
Help buying your Fire Surround
Wooden Fire Surrounds are one of the most popular ways of enhancing a room and creating an ambience personal to each individual. Bought wisely, a Wood Fire Surround will last and give years of enjoyment.
We want to make purchasing a Fire Surround as simple as possible. We appreciate that although the savings are huge, it's not the easiest product to buy online. Below are some links to video guides covering the most frequently asked questions.
Click here to visit our buyers guide for lots more advice. Please call 01422 250 723 if you need more information or help.