Albany Electric Suite
£435.00
Price includes, Fire Surround, Hearth and Back
---
---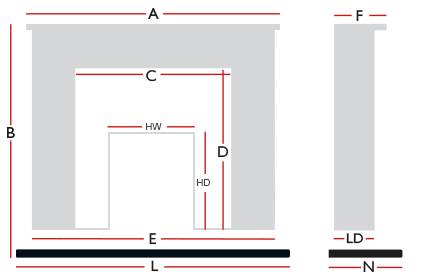 Fire Surround Dimensions
| | |
| --- | --- |
| A | 47.25'' |
| B | 43'' |
| C | 31'' |
| D | 35'' |
| E | 47.25'' |
| F | 8.25'' |
| LD | 8.25'' |
Hearth Dimensions
Hole Dimensions
Rebate: 3 inches (can be altered, please call for info)
The Albany Electric Suite
The Albany is a complete suite, ready for you to push against a wall. Just add an electric fire, (not included), and away you go. No mess, No fuss just nice and easy!
The electric suite includes
Wood Fire Surround
Venner Back Panel
Veneer Hearth
3-inch rebate
Click Here to see our electric fire collection, or add your own fire. Please call us if you have any doubts about your fire fitting.
The Electric Suite is shown here with a Matt Black Lipped hearth and back panel.
Why not add a mirror, that matches perfectly, and if you order at the same time as the fire surround, we can make the size match perfectly for free.
This surround is shown here in a variety of colours including some of our bespoke colour options
Electric Fireplace Suites
Designed with simplicity in mind our electric suite fireplaces are ideal for homes that require an easy to fit elegant mantlepiece. The wood surround comes complete with a back panel already fitted and sits on a supplied hearth. They are simple to fit and come with a free fitting kit

This range of electric fire suround suites can only be used with Electric Fires, the back panel hole is a standard industry size, and along with the 3'' rebate most inset, slimline fires will fit, but please check with us if you are unsure.

Our Electric Suites are designed with home installation in mind, you will be sitting in front of your new wood fireplace and relaxing in no time, all with a minimum of fuss.
Hearth Dimensions

| | |
| --- | --- |
| E | 48", 54" or 60" |
| F | 2" |
| G | 15" or 18" |
Boxed or Lipped Hearths

Boxed hearth

Lipped hearth
All granite and Marble hearths come lipped, for an extra charge we can make them boxed.
Veneered hearths come boxed but can be lipped for a small extra charge.
Hearth Footprint
We would always suggest that you take delivery of your hearth before cutting your carpet. The sizes given are for the top of your hearth, the footprint is usually around 0.5" on both sides and front.
Bespoke Sizes
We can alter the size of your hearth, in both width and depth. Please call us for a quotation.
Help buying your Fire Surround
Wooden Fire Surrounds are one of the most popular ways of enhancing a room and creating an ambience personal to each individual. Bought wisely, a Wood Fire Surround will last and give years of enjoyment.
We want to make purchasing a Fire Surround as simple as possible. We appreciate that although the savings are huge, it's not the easiest product to buy online. Below are some links to video guides covering the most frequently asked questions.
Click here to visit our buyers guide for lots more advice. Please call 01422 250 723 if you need more information or help.