Information Centre
---
Customer service
Here to Help
About Us
Useful Links


How to Fit a Wood Fire Surround with our Fitting Kit
We want to ensure that our customers are enjoying their new fire surround as simply and quickly as possible so we supply a free fixing kit with every fire surround. The kit we supply makes fitting your fire surround very simple. Below is a guide, however, if you don't fancy fitting it yourself then we have links at the bottom of every page that you can use to find a fitter.
If you are not buying a fire surround from us you can buy them separately, you can find them by Clicking Here
If you want to find out how to fit a Hearth and Back panel then Click Here
If you would like to know what a rebate is Click Here
The fixings are hidden behind the fire surround giving you a smart clean finish. The first thing to remember is that fitting a fire surround is not like hanging a mirror or picture; the surrounds will stand by themselves, the fitting kit is to stop them being pulled over. Therefore you don't have to worry about getting everything completely level. The fitting kits include 2 'L' shaped brackets and 2 straight brackets.
Step 1
Place your fire surround against the wall in the correct position, mark on the back of the surround and the wall where the brackets need to be fitted.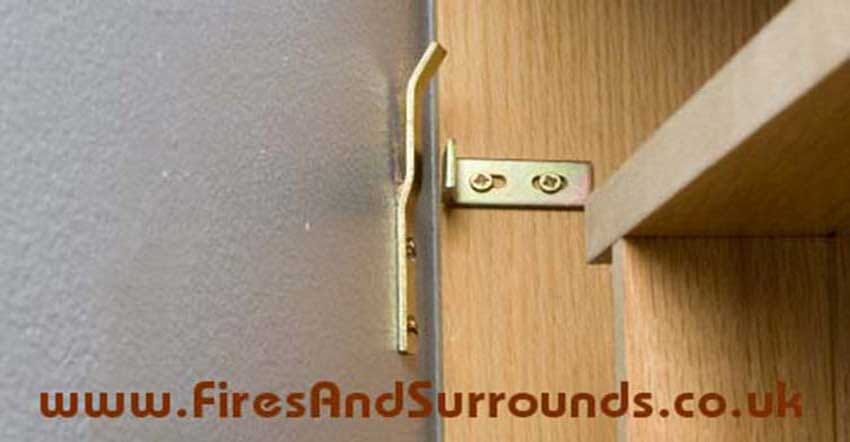 Step 2
Fit the 'L' bracket to the inside of the leg; the 'L' bracket has elongated holes so can be adjusted when fitted.
Fasten to the wall the other bracket, vertically as shown, this needs to be secure so use raw plugs if you are fitting into a stone wall. If you position the bracket too high the surround will 'hang' and not stand on the floor. In this case, you will have to either lower the bracket fitted to the wall or it will probably be easier to raise the bracket fitted to the inside of the leg.
Don't worry about getting the brackets to fit together perfectly, as long as the 'L' shaped bracket fits behind the bent metal bracket on the wall this will be fine, they are only there to stop the surround being pulled over.

Step 3
Repeat step 2 on the other side. The surround will now lift up and drop onto the brackets. If both legs don't touch the hearth then you will have to lower the brackets on the wall or raise the bracket on the inside of the legs.

Each fitting kit includes 2 wall brackets and 2 inside leg brackets.
We do not supply screws to go into your wall or raw plugs as every installation requirement is different.
Any problems please don't hesitate to call us.