Madrid Fireplace Suite
£998.00
A complete Fireplace Package with Electric Fire
---
---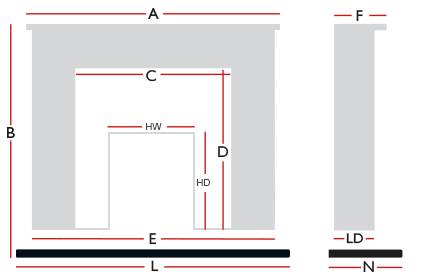 Fire Surround Dimensions
| | |
| --- | --- |
| A | 49.5 |
| B | 40.5'' |
| C | |
| D | |
| E | |
| F | 10'' |
| LD | |
Hearth Dimensions
Hole Dimensions
Rebate: 3 inches (can be altered, please call for info)
The Madrid Electric Fireplace Suite.
This electric suite is a complete package and comes with a surround, hearth and remote control fire. This stunning electric fire has 3 flame effects on its large LCD display so that you can adapt the fire to your mood. The supplied remote control is used to alter the heat, colour or to swith the fire on or off. For complete flexibility, it also comes equipped with a choice of both the Glass Crystal & White Pebble flame beds.
This electric fireplace is designed to sit against a completely flat wall and socouldn't be simpler to fit, simply push it against your wall and plug it in, the surround comes in any of our standard painted finishes at no extra cost, or choose to have the surround painted in one of our bespoke colours for only an extra £55.
The electric fire has a maximum heat setting of 2kw, this is controlled with a thermostat in the handset, simply set the desired room temperature and the fire will adapt the heat output to bring your room up to that temperature..
This electric suite package includes
Wood Fire Surround
Hearth
Back Panel
Electic Fire with LCD diplay
Choice of white stone or glass crystal flame beds
The electric suite is shown here in brilliant white, it is available in any of our smooth painted finishes.
Electric Fireplace Suites
Designed with simplicity in mind our electric suite fireplaces are ideal for homes that require an easy to fit elegant mantlepiece. The wood surround comes complete with a back panel already fitted and sits on a supplied hearth. They are simple to fit and come with a free fitting kit

This range of electric fire suround suites can only be used with Electric Fires, the back panel hole is a standard industry size, and along with the 3'' rebate most inset, slimline fires will fit, but please check with us if you are unsure.

Our Electric Suites are designed with home installation in mind, you will be sitting in front of your new wood fireplace and relaxing in no time, all with a minimum of fuss.
Hearth Dimensions

| | |
| --- | --- |
| E | 48", 54" or 60" |
| F | 2" |
| G | 15" or 18" |
Boxed or Lipped Hearths

Boxed hearth

Lipped hearth
All granite and Marble hearths come lipped, for an extra charge we can make them boxed.
Veneered hearths come boxed but can be lipped for a small extra charge.
Hearth Footprint
We would always suggest that you take delivery of your hearth before cutting your carpet. The sizes given are for the top of your hearth, the footprint is usually around 0.5" on both sides and front.
Bespoke Sizes
We can alter the size of your hearth, in both width and depth. Please call us for a quotation.
Help buying your Fire Surround
Wooden Fire Surrounds are one of the most popular ways of enhancing a room and creating an ambience personal to each individual. Bought wisely, a Wood Fire Surround will last and give years of enjoyment.
We want to make purchasing a Fire Surround as simple as possible. We appreciate that although the savings are huge, it's not the easiest product to buy online. Below are some links to video guides covering the most frequently asked questions.
Click here to visit our buyers guide for lots more advice. Please call 01422 250 723 if you need more information or help.