Wilmslow Package
£682.00
Save £62 with this fire package & Free delivery
---
---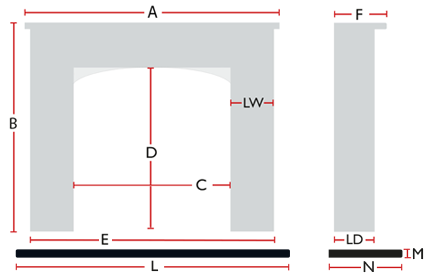 Fire Surround Dimensions
| | |
| --- | --- |
| A | 57" |
| B | 47" |
| C | 34.5" |
| D | 35.25" |
| E | 52" |
| F | 8.5" |
| LD | 7.25" |
| LW | 8.75" |
Hearth Dimensions
Rebate: 1 inch removable to 3 inches; click here to find out about rebates.
Measurement 'D': From the inside surround bottom to the top centre of the opening.
Click on the sizes (A-E): To see other surrounds with this dimension.
The Wilmslow Fireplace Package
Pictured with a Diamond Multi-Flue gas fire and finished in Olde England White, the grand Wilmslow mantel has a presence in any living room. It's size and clean lines make the Wilmslow fire surround a favourite for the more traditional consumer with a larger living space. Manufactured from high-quality veneer, the surround is available in any of our colour finishes.
This is a Complete Package Deal and includes the following
Wilmsolw Painted Fire Surround
Diamond Multi Flue Gas fire or Resoloution Electric Fire
Black Granite Back Panel.
Black Granite Stone Hearth 54'' x 15''
This package does not include the down lights however they can be purchased if required, please select from the drop down menu.
Non package price based on the individual prices of this fire surround, a Granite Hearth, Granite Back Panel and Diamond Multi-Flue Gas Fire.
This package is available only in the colour swatches shown. If you require a different colour, different fire or would like to take advantage of our Made to Measure Service then please see our standard Wilmslow Fire Surround
All our Granite hearths and Backs are premium quality; we do not sell the lower quality dyed granite.
The surround shown here is in Ole England White.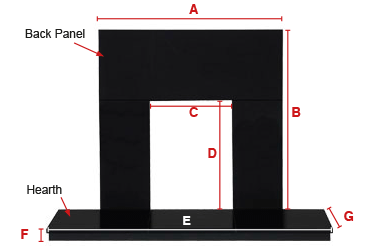 Hearth & Back Dimensions
| | |
| --- | --- |
| A | 37" or 40" |
| B | 37" or 40" |
| C | 16.5" |
| D | 22.5" |
| E | 48", 54" or 60" |
| F | 2" |
| G | 15" or 18" |
Hearth Footprint
We would always suggest that you take delivery of your hearth before cutting your carpet. The sizes given are for the top of your hearth, the footprint is usually around 0.5" on both sides and front.
Bespoke Sizes
We can alter the size of your hearth, in both width and depth. Please call us for a quotation.
Standard Sizes
The standard sizes for hearths are:
| | |
| --- | --- |
| Wide | 48", 54" or 60" |
| Deep | 15" or 18" |
The back panel standard sizes are:
If your require a hearth that is not an option on your chosen fire surround, please order from our Hearth & Backs section.
Help buying your Fire Surround
Wooden Fire Surrounds are one of the most popular ways of enhancing a room and creating an ambience personal to each individual. Bought wisely, a Wood Fire Surround will last and give years of enjoyment.
We want to make purchasing a Fire Surround as simple as possible. We appreciate that although the savings are huge, it's not the easiest product to buy online. Below are some links to video guides covering the most frequently asked questions.
Click here to visit our buyers guide for lots more advice. Please call 01422 250 723 if you need more information or help.